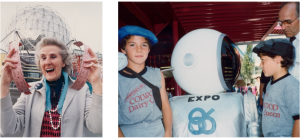 Love it or hate it, the legacy of Expo can be felt throughout this city, be it in infrastructure (the Skytrain, Science World, BC Place), in the city's reputation as one of the most beautiful places to live in the world, or through the collective British Columbian, and even to some extent Canadian, unconscious.
Thirty years on, Expo86: An Unofficial History explores the personal memories of those who visited the 1986 World Fair in Vancouver through photographs. Pendulum Gallery received over 200 image submissions from the public call for photographs. The resulting 50+ images on exhibit reveal a kitschy, quirky and charming array of events that happened at the fair.
Pendulum Gallery invites visitors to wade their way through short-shorts, knee high socks, pastel colours, and a whole lot of hairspray. Photo by photo, stories will emerge, impromptu performances, magical ticket fairies, unrequited love, special holidays and unforgettable road trips. Enjoy the memories, surely most visitors will have their own as well, as Expo86 had over 22 million visitors.