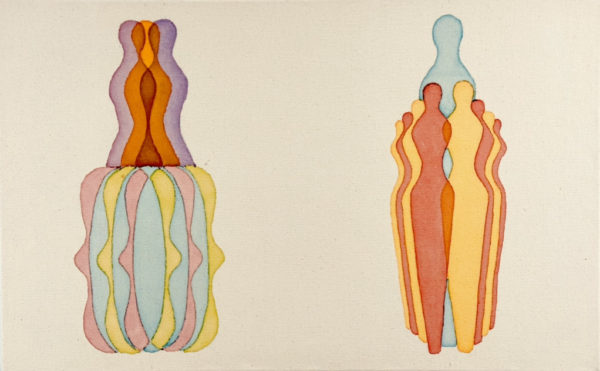 Vancouver artist Charles Rea's collaboration and tribute to his late wife Mary Janeway developed over a 17-month period during which time Janeway battled cancer. A thoughtful and expressive body of work grew from reflections on their life together, with the give and take of their relationship contributing to the conceptual and formal underpinnings of the paintings and drawings that make up this exhibition.
The Playful Nature paintings are reconfigurations of three forms; an Aphrodite, a Buddha and a bean head (the engaged viewer). I view these references benignly, using them abstractly to express a variety of personal and collective experiences. I see the three forms as inexorably linked to this geographical location through cultural practices and diversity.
The ideas started with small watercolours. Mary saw the works' potential early on and encouraged me to develop them further. Slightly before her diagnosis I imagined creating works of joy and hope, not knowing the path we were about to follow. A lot of what eventually transpired in the work came after Mary's passing. Later, reflecting on our life together, I recognized in these figures Mary's humour, intelligence, sexuality and spirituality. Her style is present in the configurations, reminding me of her jewelry designs. Her generosity and inspiration allowed this work to progress during a most difficult time. CR
Also included in the exhibition is a set of images from the drawing series Single-Stem / Multi-Petalled.
As a lover and grower of roses, I have an interest in both their structure and symbolism. Though there are few flowers to be pictured in the works, the idea of a multi-petalled rose on a single stem conjured for me a way to understand how all human practices are linked. The drawings juxtapose two images side by side which are visually similar but are ideological opposites. These drawings chronicle a variety of divergent practices from a humorous perspective, making light of differences or similarities. Humour became, following Mary's death, one way to deal with the absurdity of life. These pieces are semiautobiographical, capturing our life together as we navigated through the cultural landscape. Mary Janeway brought the world home and I had fun with it. CR
Image: Charles Rea, Chamber, 2022, Acrylic on canvas, 20x32"